Cormorants
Where to see:
Around Krina hill
When to see:
All year
RB - Resident & breeding
(M) irr. - individuals on migration, irregular
(W) irr. - individuals in winter, irregular
Local languages:
(Βουβός) Κύκνος
Interesting information:
The mute swans breeding on Lesser Prespa are the only swans breeding in the wild in Greece
IUCN Red List Status:
Least Concen
Anas crecca
(Eurasian Teal)
Anas clypeata
(Northern shoveler)
Aythya fuligula
(Tufted duck)
Mergellus
albellus
(Smew)
Tadorna tadorna
(Shelduck)
Anas penelope
(Eurasian wigeon)
Anas platyrhynchos
(Mallard)
Anas acuta
(Northern pintail)
Anas
querquedula
(Garganey)
Netta rufina
(Red-crested pochard)
Aythya
nyroca
(Ferruginous duck)
Aythya marila
(Greater scaup)
Melanitta fusca
(Velvet scoter)
Bucephala
clangula
(Goldeneye)
Mergus merganser
(Goosander)
Anser Albifrons
(Greater White-fronted goose)
Anser anser
(Greylag goose)
CYGNUS (SWANS)
ANSER, BRANTA (GEESE)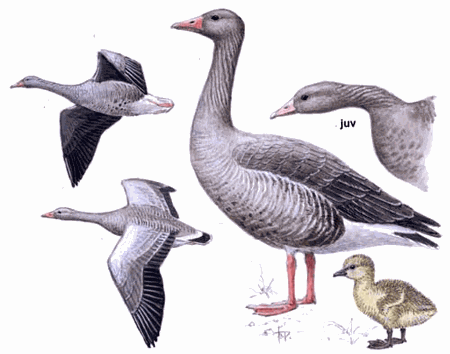 Tetrastes bonasia
(Hazel grouse)
Alectoris graeca
(

Rock Partridge

)
Coturnix coturnix
(Quail)
Perdix perdix
(Grey partridge)
Phasianus colchicus
(Phesant)
Gavia stellata
(Red-throated loon)
Gavia arctica
(Arctic loon)
Grouse & Partridges (5 species)
Podiceps cristatus
(Great crested grebe)
Tachybaptus ruficollis
(Little grebe)
Podiceps auritus
(Horned grebe)
Podiceps grisegena
(Red-necked grebe)
Gavia stellata
(Red-throated loon)
Gavia arctica
(Arctic loon)
Great white pelican
(

Pelecanus onocrotalus

)
Gavia stellata
(Red-throated loon)
The information here was mostly collected in the 1990s by Dr. Giorgos Catsadorakis*. It has been updated since, but not for every species. We would be very glad to hear of any observations or corrections.
UNLESS the information specifies 'Albania', 'Macedonia (FYR*)' or 'All Prespa', then please presume it only applies to birds monitored in Greek Prespa. We hope that this will one day change, but until now the vast majority of bird monitoring has only taken place on the Greek side, chiefly thanks to the dedication of Dr. Catsadorakis and the

Society for the Protection of Prespa

.
* Catsadorakis 1997 (Hydrobiologia 351: 157-174), with contributions from: A. Bonetti, J. Henderson, J. Hoffman, G. Müller,
K.Standring, E. de Vries, F.Willems, M.Gletsos, A.Logotheti, T.Kastritis,Hans Källander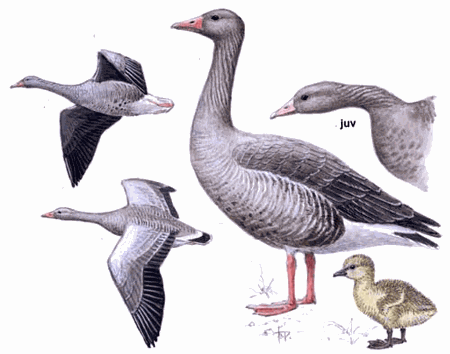 Where to see:
Agricultural areas, scrub & grasslands around northern and eastern side of Lesser Prespa
IUCN Red List Status:
Least Concen
When to see:
All year
RB - Resident & breeding
(M) irr. - individuals on migration, irregular
(W) irr. - individuals in winter, irregular
Anser albifrons
Greater white-fronted
goose
Interesting information:
The mute swans breeding on Lesser Prespa are the only swans breeding in the wild in Greece
Where to see:
Agricultural areas, scrub & grasslands around northern and eastern side of Lesser Prespa
IUCN Red List Status:
Least Concen
When to see:
All year
RB - Resident & breeding
(M) irr. - individuals on migration, irregular
(W) irr. - individuals in winter, irregular
Anser anser
Greylag goose
Interesting information:
The mute swans breeding on Lesser Prespa are the only swans breeding in the wild in Greece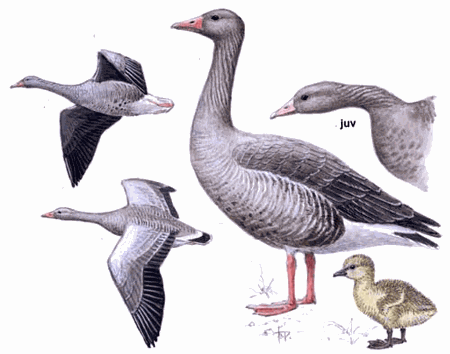 Where to see:
Agricultural areas, scrub & grasslands around northern and eastern side of Lesser Prespa
IUCN Red List Status:
Least Concen
When to see:
All year
RB - Resident & breeding
(M) irr. - individuals on migration, irregular
(W) irr. - individuals in winter, irregular
Interesting information:
The mute swans breeding on Lesser Prespa are the only swans breeding in the wild in Greece
Podiceps auritus
(Horned grebe)
Podiceps grisegena
(Red-necked grebe)
Tachybaptus ruficollis
(Little grebe)
Podiceps cristatus
(Great crested grebe)